---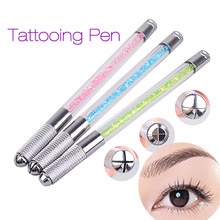 Microblading Double Head Pen
---
CRYSTAL MICROBLADING PENS:
Professional permanent makeup eyebrows, complete functions.
Double head design, especially convenient for using all needles.
Use with the paste pigment, in different colors.
Special design needle entrance, just tighten and then it can grip the needle firmly.
Exquisite crystal diamond decoration, stylish appearance.
Permanent eyebrow pen
Lightweight & unique
Best gift for women
Material: copper, stainless steel
Size: 145 x 6mm
Weight: 16g
Color: Four colors are available, WHITE, PURPLE ORANGE AND RED.
handmade tattoo pen 

The key of the product: 
High stability and perfect products.
Don't need the power to do tattoo beauty operation.
Copper non-slip handle, operate more easily freehand brushwork.
Mainly for lady, easy to cope with, long-term use, not easy damage.
Excellent for eyeliner, eyebrows, lip liner, full lip color, scar camouflaging reconstruction and tattooing.