---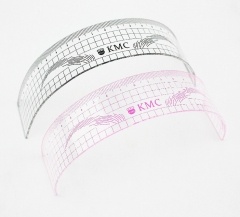 Eyebrow Ruler
---
EYEBROW RULER:
Plastic permanent makeup eyebrow ruler
Plastic eyebrow ruler, for permanent makeup and microblading use it to keep your brows symmetrical and trimmed perfectly!  Very simple and easy to use!
Material: Plastic 
Made of Environmentally-friendly materials, high durability, excellent softness
This product is for learners to do permanent makeup. Especially for the beginers.
It could be more accurate for those who are in the beginning stages of  the  permanent makeup eyebrow, eyeline and lip.
It can help those who usual find no eyebrow position and have makeup spacing problems to get a pair of symmetrical satisfaction brows
It can also be served as the usual measurement items, particularly suitable for curved and rounded the perimeter.